Updated 30.1.2013
Close by the Chania-Paleochora road there is an old small village, Milia, founded hundreds of years ago, nowadays owned by two families who bought it little by little after it had been deserted. Now, after a long period of time, they have made the village ecologically functional and like it was centuries ago. In the village there are rooms in small cottages to rent all year round and many paths to walk in the neighbouring areas; the atmosphere is quiet and relaxing.
Milia is well worth visiting because of the good genuine Cretan food, not to mention the special ambience in the tavern.
…


…
The tavern, where there is room for about one hundred diners, is mainly lit by candles; ecology here, means that there is no mains power in the village. They have solar cells to produce 24 volt electricity for the security lights and lighting the rooms. In the tavern you can charge your mobile phone battery.
When it's getting dark the ambience in the tavern is unbelievable.
The tavern uses mainly home grown organic ingredients,
"from the field to the kitchen"
In the village they grow both root vegetables and vegetables but also rear animals such as sheep, goats, chickens and a couple of cows, they also produce their own wine, and what they don't have is bought from the neighbouring villages, always organic. Because of their own production they have a different menu every day.
From the tavern you can buy local tinned fruit, honey etc.
In Milia there is a well organized and efficient refuse collection; everything is recycled.
…

A picture of the Milia area from the mountain, the village is down on the right.
…

A picture from the tavern, the spirit of the past centuries is present.

Pictures of the Milia dishes:
…


Kaltsunia
…


Apaki
…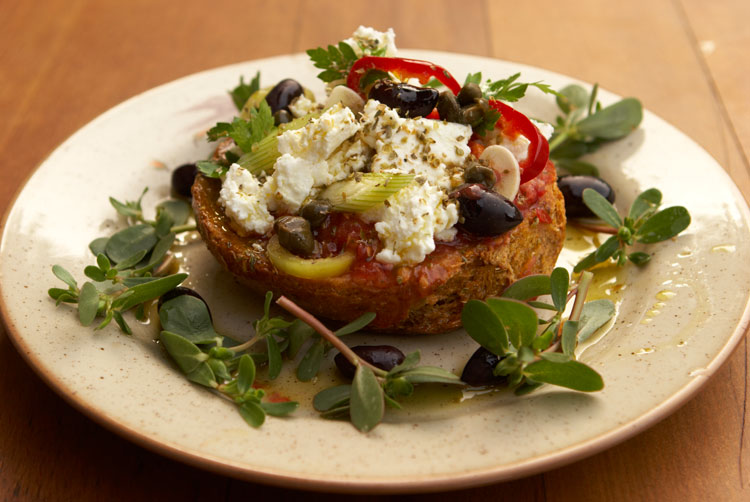 Dakos
…


Lamb and potatoes from the oven.
…


Aubergine.
…


Giant beans.
…


Olive oil poured on fava.
…

Nuts and potatoes.
…

Salad.
…


Stuffed vine leaf rolls.
…
…
Milia's location in the map:
…


…
Further information:
There are good signs to Milia from the Chania-Paleochora road.
Milia is quite high on the mountain slope so if you have a fobia about high places the end of the road might not be good for you.
Milia's website
…